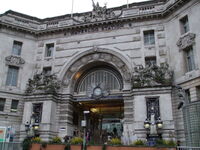 Waterloo Station is a major railway terminal in central London, handling around 88 million passengers a year. The station is, due to its status, one of the busiest terminals in Europe and has an extensive security detail.
History
In March 2009 hundreds of people were frozen by a Chrono Flash in one of the main hubs, resulting in bedlam with dozens of people hurt, though no deaths.
Ad blocker interference detected!
Wikia is a free-to-use site that makes money from advertising. We have a modified experience for viewers using ad blockers

Wikia is not accessible if you've made further modifications. Remove the custom ad blocker rule(s) and the page will load as expected.