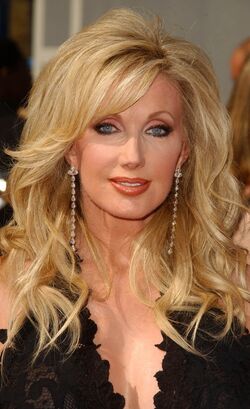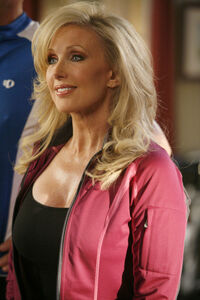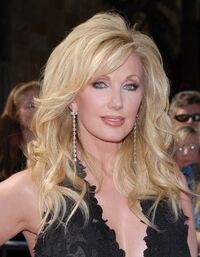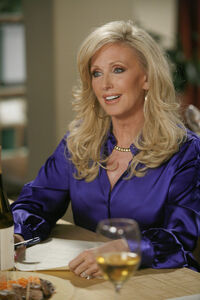 Vivian Skye (born 1951) is a minor character in Tales from the Tuckerverse. Vivian was Eric Stone's personal assistant, differing from Monica Stein who worked more for the whole family and primarily with travel while Vivian was all about Eric and Stone Enterprises. After Eric's death Vivian retired, Patricia Mero already having a PA and Erika Stone more likely to want the younger Monica.
Biography
Vivian was born in Houston, Texas, though her family ended up moving out to Los Angeles when she was eight. Wanting to fit in at school Vivian dropped her Texan accent very quickly and soon became a prominent member of the school's top social group, even becoming a cheerleader. After graduating Vivian studied at Malibu State College while also working as an intern for Stone Enterprises. After graduating from MSC, transferring to Stanford and getting a Bachelor degree in business Vivian went to work for Stone Enterprises full-time, having the fortune become personal assistant to newly-appointed vice-president Eric Stone.
Vivian became inseparable from Eric Stone, one of his closest companions and frequently-rumored romantic partners. In spite of how close Vivian and Eric became no romance ever blossomed, Eric later marrying Ingrid Stone and having a daughter, Erika Stone. A dedicated career woman, Vivian had little time for family though she finally adopted a girl, Jillian Skye, when in her mid-thirties. Vivian's commitment to Stone Enterprises was rewarded however as she was one of the highest paid employees around the time she retired. Vivian's retirement only came after Eric Stone died of a heart condition, electing to step down and instead groom Monica Stein to be a better assistant for Erika when she'd take over.
Personal Information
Current Age: 58
Height: 5'4"
Weight: 108 lbs
Hair Color: Blonde
Eye Color: Blue
Bra Size: 34B
Hypnosis Rating: 3
Current Place of Residence: Los Angeles, US
Sexual Preference: Men
Common Attire: Pink Skirt Suits
Relationships
Family
Friends
Appearances
Trivia
Vivian is physically based on actress Morgan Fairchild, who was frozen in The Girl, The Gold Watch and the Dynamite.