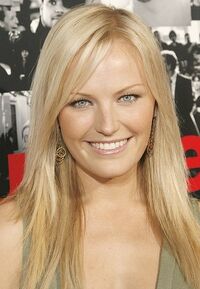 Tekla Malmer (born 1978) is a minor character in The IT Files. A Swedish senior Europol Liaison Officer (ELO), Tekla is based out of Stockholm, working primarily with the National Economical Crimes Bureau, Interpol and the International Temporal Enforcement Agency. Tekla has also worked with the Central Intelligence Agency (CIA) on more than one occasion.
Biography
Tekla was born in Gothenburg, Sweden, one of three children. Daughter of the manager of an insurance firm and a tourism representative, Tekla's early interests were in film and music. In her teens Tekla was very popular in school and was pushed by her friends to go into modeling. A bad experience with a local modeling job quickly soured Tekla to the idea and while going to university in Stockholm worked as a patent clerk. Graduating with a Bachelor of Political Science, Tekla was surprised to be approached after graduation by Europol.
While native to Sweden Tekla found herself soon working all over Europe, spending a great deal of time in the Czech Republic, Switzerland and Poland. While in the Czech Republic Tekla had more than once encounter with the CIA and remained on friendly terms with August Kuris, an agent she worked with. Darina Zajic became a sort of little sister to Tekla, the woman mentoring the younger one in life as an ELO. Tekla worked with Darina and the International Temporal Enforcement Agency to investigate suspicious activity in Prague and ended up briefly kidnapped by Tamaya Qillaq before being rescued.
Personal Information
Current Age: 31
Height: 5'8"
Weight: 124 lbs
Hair Color: Blonde
Eye Color: Blue
Bra Size: 34B
Hypnosis Rating: 2
Current Place of Residence: Stockholm, SE
Sexual Preference: Men
Relationships
Friends
Appearances
Trivia
Tekla is physically based on actress Malin Åkerman.
Ad blocker interference detected!
Wikia is a free-to-use site that makes money from advertising. We have a modified experience for viewers using ad blockers

Wikia is not accessible if you've made further modifications. Remove the custom ad blocker rule(s) and the page will load as expected.