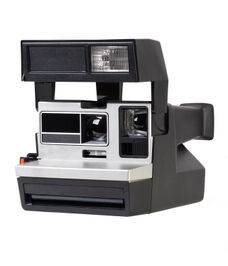 The Stillsville Camera is a magical device that originated in Stillsville. Taking a picture with the camera freezes the target in time.
Powers
The camera possesses a seemingly infinite supply of paper, never needing reloading, and its flash doesn't seem to wear out either. When the camera takes a picture anything caught in frame that's in motion is frozen in time, as captured by the picture. A photo is then produced of the scene, as per how Polaroid cameras typically work. Anything caught by a photo of the camera will remain frozen until any photos containing the target are destroyed. Destroying the photos is as simple as tearing one up, but otherwise they can last a long time, people in Stillsville having been frozen for a year or more.
Owners
Current
Formerly
Secret-Keepers
Ad blocker interference detected!
Wikia is a free-to-use site that makes money from advertising. We have a modified experience for viewers using ad blockers

Wikia is not accessible if you've made further modifications. Remove the custom ad blocker rule(s) and the page will load as expected.