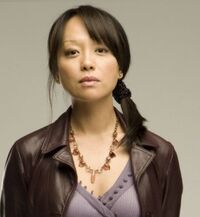 Shiori Yoshida (born 1971) is a minor character in The IT Files. Having immigrated to London from Japan, Shiori eventually joined the Metropolitan Police Service. Within the MPS Shiori is a liaison to other law enforcement agencies while holding the rank of Deputy Assistant Commissioner, currently having an office at ITEA HQ while working with the International Temporal Enforcement Agency.
Personal Information
Current Age: 38
Height: 5'3"
Weight: 132 lbs
Hair Color: Dark Brunette
Eye Color: Dark Brown
Bra Size: 33C
Hypnosis Rating: 4
Current Place of Residence: London, UK
Sexual Preference: Men
Special Notes: Needs Glasses (Usually Wears Contacts)
Relationships
Friends
Appearances
Trivia
Shiori is based on actress Naoko Mori.
Ad blocker interference detected!
Wikia is a free-to-use site that makes money from advertising. We have a modified experience for viewers using ad blockers

Wikia is not accessible if you've made further modifications. Remove the custom ad blocker rule(s) and the page will load as expected.