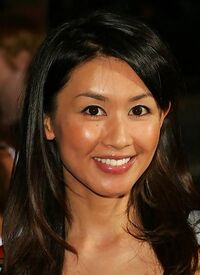 Sakura Ahikage (born 1975) is a minor character in the Clockwork series as well as The IT Files. Sakura was a resident of Tokyo, Japan who was in between jobs when Erika Stone and Monica Stein took over her apartment to use as a hideout, injecting the woman with Type-7. Sakura was kidnapped by the pair but later rescued and returned home. Months later in an attempt to remove anyone who knew about Erika's abilities Sakura was picked up by the Paradise Foundation. Down on her luck, Sakura finally had a breakthrough by becoming a hostess and getting a job at Perfect Sakura. After Perfect Sakura was outed as being run by the Imagawa Clan Sakura found herself destitute, but Chita Francisco quickly hired her as an assistant with Global News Agency.
Personal Information
Current Age: 34
Height: 5'3.75"
Weight: 116 lbs
Hair Color: Dark Brunette
Eye Color: Dark Brown
Bra Size: 32B
Hypnosis Rating: 2
Current Place of Residence: London, UK
Sexual Preference: Men
Relationships
Friends
Appearances
Trivia
Sakura is physically based on singer/actress Eriko Tamura.
Ad blocker interference detected!
Wikia is a free-to-use site that makes money from advertising. We have a modified experience for viewers using ad blockers

Wikia is not accessible if you've made further modifications. Remove the custom ad blocker rule(s) and the page will load as expected.