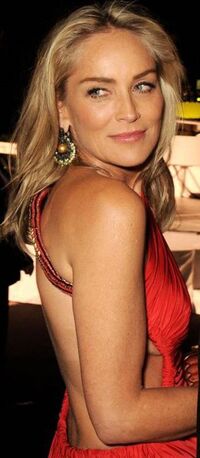 Rina Corde (born 1959) is a statue in The IT Files. Heiress to the Corde Motors auto company, she married Richard Stilton when she was young and is Maris Stilton's biological mother. Years later Rina divorced Richard when he cheated on her with Mary Thatcher. Currently Rina is the executive vice-president of Corde Motors, her brother being the president and CEO. Suspicious when Patricia Mero took over the Stilton Corporation, Rina ended up being a test subject for Basilisk. Rina is now a statue in The Sanctum.
Personal Information
Current Age: 50
Height: 5'8.5"
Weight: 126 lbs
Hair Color: Blonde
Eye Color: Green
Bra Size: 36B
Hypnosis Rating: 1
Current Place of Residence: New York, US
Sexual Preference: Men
Relationships
Owners
Family
Former Employees
Appearances
Trivia
Rina is physically based on actress Sharon Stone.
Ad blocker interference detected!
Wikia is a free-to-use site that makes money from advertising. We have a modified experience for viewers using ad blockers

Wikia is not accessible if you've made further modifications. Remove the custom ad blocker rule(s) and the page will load as expected.