Remington 870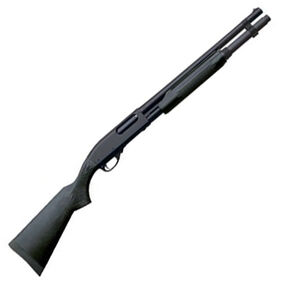 Classification: Pump Shotgun
Year Introduced: 1951
Country of Origin: United States
Created By: Remington Arms
Caliber: 12 Gauge
Capacity: 5 to 8
The Remington Model 870 is a pump shotgun developed by Remington Arms, which has since become one of the most commonly-used shotguns in the world with over ten million sold.
Overview
The Model 870 was first introduced in 1951 when bottom-loading, side-ejecting and dual action bars were still not entirely common. In the decades that followed the shotgun updated with the times but the general design has remained the same.
Use
The Federal Bureau of Investigation employ the Remington 870 as their standard shotgun for tactical operations.
The 870 is the most common shotgun Triangle forces use, often carrying them in interior security operations as combat tends to be in close quarters.
While not making lethal force a priority, the International Temporal Enforcement Agency does have a stock of Remington 870 shotguns for special situations. Several ITEA shotguns can also fire stun rounds and Vapor Rounds.
Ad blocker interference detected!
Wikia is a free-to-use site that makes money from advertising. We have a modified experience for viewers using ad blockers

Wikia is not accessible if you've made further modifications. Remove the custom ad blocker rule(s) and the page will load as expected.