Remington 700 ADL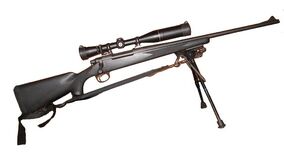 Classification: Bolt-Action Sniper Rifle
Year Introduced: 1962
Country of Origin: United States
Created By: Remington Arms
Caliber: .308 Winchester
Capacity: 6
The Remington 700 ADL is a bolt-action sniper rifle developed by Remington Arms and is used by armed forces around the globe.
Overview
Remington Arms created the 700 in 1962, and over the years began introducing various updated designs to the aging model to keep it relevant. From 1989 to roughly 2002 the ADL was considered the most economic model, offering a large caliber bullet with a six-round magazine at an affordable price.
Use
While Ouroboros didn't employ too many sniper rifles the Remington 700 was adapted as their main weapon for such a purpose. Sloane Taylor employs the rifle as her favored weapon.
Ad blocker interference detected!
Wikia is a free-to-use site that makes money from advertising. We have a modified experience for viewers using ad blockers

Wikia is not accessible if you've made further modifications. Remove the custom ad blocker rule(s) and the page will load as expected.