PTW Brotherhood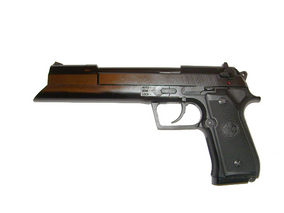 Classification: Semi-Automatic Pistol
Year Introduced: 1993
Country of Origin: South Korea
Created By:
Park Tech Weapons
Caliber: .44 Magnum
Capacity: 12
The PTW Brotherhood is a sidearm developed by Park Tech Weapons, which has since been adapted for use by military forces and private security forces across the globe.
Overview
In the early 1990s Park Tech Weapons began developing long-barrel pistols, trusting their accuracy and power to win over customers who might be favoring compacts. The Brotherhood was based on the Beretta 92 but made with the kind of polymers found in Glock 17, as well as an elongated barrel to reduce recoil.
Use
A 1996 deal with Park Tech Weapons saw Triangle Security Services adopt PTW sidearms as standard issue for their security teams. While TSS specialists might use other weapons their stand-issue sidearms are the Brotherhood and PTW Infinity.
As per a contract agreement with Noi Industries, CyTek employs the Brotherhood as one of the standard sidearms for the CyTrooper Program.
Ad blocker interference detected!
Wikia is a free-to-use site that makes money from advertising. We have a modified experience for viewers using ad blockers

Wikia is not accessible if you've made further modifications. Remove the custom ad blocker rule(s) and the page will load as expected.