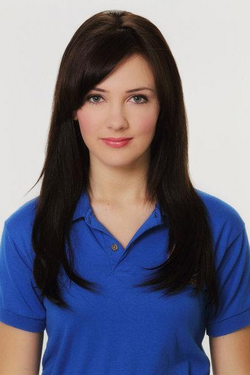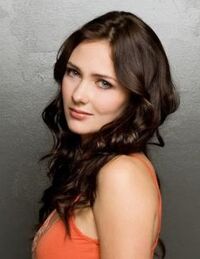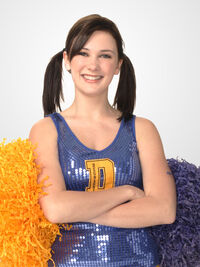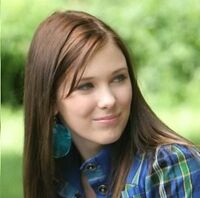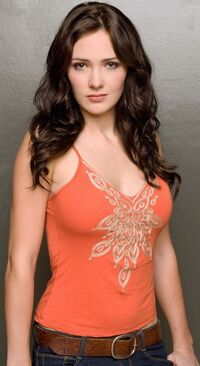 Missy Pine (born 1991) is a minor character in Tales from the Tuckerverse. Missy is a Decker State College cheerleader and considered one of the best dancers on the squad, also being a Dance major.
Biography
Missy was born in Baldwin, British Columbia. While growing up near Vancouver Missy had initially spent little time outside of her hometown, mostly getting culture impressions from television and film. Dance videos on music-related shows quickly became one of Missy's favorite things and she took to taking modern dance classes. While educationally Missy was versatile, specializing in literature, film studies and geology, she ultimately elected to study Dance at Decker State College in Malibu. Thanks to her extra-curricular activities Missy managed to earn enough credits to graduate early from high school and thus went to college when she was only seventeen.
Having always wanted to be on a cheerleader squad, Missy auditioned for the one with DSC. Rachel Xanders initially had reservations about Missy, in particular her age, but Michelle Gim convinced her to give her a shot. Missy has since shown herself to be one of the best dancers on the squad, possibly the best, and appreciated Michelle for the opportunity.
Personal Information
Current Age: 18
Height: 5'6"
Weight: 119 lbs
Hair Color: Brunette
Eye Color: Blue
Bra Size: 34A
Hypnosis Rating: 1
Current Place of Residence: Malibu, US
Sexual Preference: Men
Relationships
Family
Fellow Cheerleaders
Friends
Appearances
Trivia
Missy is based on actress Samantha Munro.