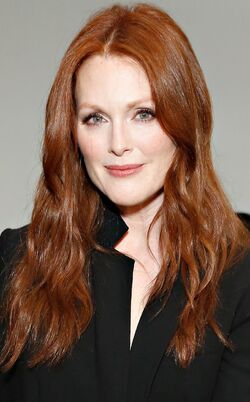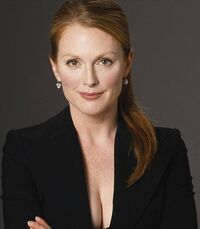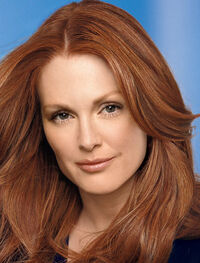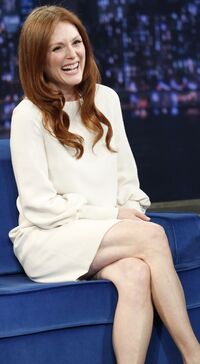 Merilyn Kent (born Merilyn Black in 1959) is a supporting character in The IT Files. A friend of Ingrid Stone, Merilyn is also the owner of the Fetishist Wax Museum in Malibu. Merilyn's husband Simon Kent is a doctor with his own practice.
Biography
Merilyn was born in Charlotte, North Carolina, one of two children. In her youth acting was on Merilyn's mind, and as she won local talent contests with her knowledge of ninjutsu as well as beauty contents Merilyn was certain Los Angeles and movies were in her future. Ultimately after graduating from high school Merilyn moved to LA, ending up cutting off ties with her extended family. While Merilyn's unusual skill-set impressed some casting sessions Merilyn's career ultimately ended after only three commercials, four bit parts in television and two minor roles in independent films.
With her acting career not working out Merilyn feared having become a waitress for the rest of her life, something she loathed, but a chance meeting with Simon Kent led to a romance and eventually a marriage. The couple had two children, Joshua Kent and Velma Kent. Merilyn for years did little, being a doting home-maker and working with charities, having met and befriended Carol Wilford and Ingrid Stone. Eventually Merilyn became the key owner of the Fetishist Wax Museum in Malibu, which became one of her big projects after the children had moved out of the house. Merilyn is the public owner, though she has a silent partner.
Merilyn's friendship with Ingrid once saw her targeted by Ouroboros. Derek Grisham targeted Ingrid and also kidnapped Merilyn and Carol, though Erika Stone was later able to rescue them. Since then Merilyn has dealt with constant scrutiny on the display pieces in her museum, Jessica Alfa being one frequent protestor.
Personal Information
Current Age: 50
Height: 5'4"
Weight: 120 lbs
Hair Color: Redhead
Eye Color: Green
Bra Size: 34B
Hypnosis Rating: 3
Current Place of Residence: Malibu, US
Sexual Preference: Men
Relationships
Family
Staff
Friends
Appearances
Trivia
Merilyn is based on actress Julianne Moore.
Ad blocker interference detected!
Wikia is a free-to-use site that makes money from advertising. We have a modified experience for viewers using ad blockers

Wikia is not accessible if you've made further modifications. Remove the custom ad blocker rule(s) and the page will load as expected.