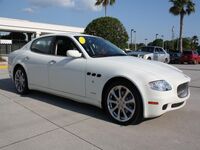 The Maserati Quattroporte is a luxury sports sedan made by Maserati. Maserati use to be associated with Ferrari until recently, it now with Alfa Romeo. The Quattroporte was in production from 2005 to the present. It is powered by a powerful V-8 engine that puts out 396 horse power. The power is put down to the rear wheels by a six speed auto shift transmission.
Owners
Sonia Castillo owns a 2006 Quattroporte, white in color with custom black wheels.
Featured
Trivia
Ad blocker interference detected!
Wikia is a free-to-use site that makes money from advertising. We have a modified experience for viewers using ad blockers

Wikia is not accessible if you've made further modifications. Remove the custom ad blocker rule(s) and the page will load as expected.