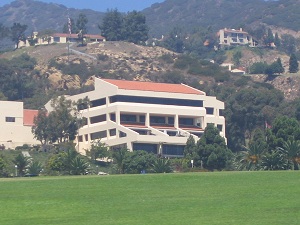 Malibu State College is a major California college located in Malibu, California. A state college, its local rival in both sports and academics is the more successful Decker State College. The college is located in East Malibu, south of Tuna Canyon Park and near Peña Canyon, overlooking the beach and highway but not owning anything on it.
History
Malibu State College was founded in 1965, initially specializing in business and science, the latter due an investment by the local HRL Laboratories (the first company to develop a working laser). The school's hey-day was in the mid 1980s, during which its future rival Decker State College was only a community college and several of their graduates had started lucrative local businesses. Since the 90s however MSC has been slowly declining while DSC has become more successful, their sports program in particular becoming a borderline eyesore in spite of the Lady Sharks being one of the best NCAA soccer teams in 1988.
People
Cheerleaders
Other Students
Faculty
Ad blocker interference detected!
Wikia is a free-to-use site that makes money from advertising. We have a modified experience for viewers using ad blockers

Wikia is not accessible if you've made further modifications. Remove the custom ad blocker rule(s) and the page will load as expected.