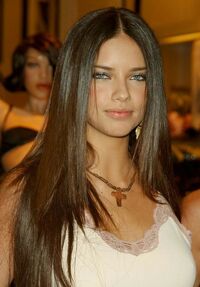 Lola Mateo (born 1981) is a minor character in Tucker's Wand and The IT Files. An Italian-Brazilian model working with Models Inc, Lola was an early success who has become a bit arrogant and reckless as fame went to her head. Despite her attitude issues Lola has proven very profitable and is considered one of the most beautiful women in the world.
Biography
Lola was born in Sao Paolo, Brazil, the daughter of an aide to the Italian ambassador and a local woman. Her striking blue eyes and reddish-brown hair made Lola considered the beauty as a girl, quickly rising through the social ranks as she matured despite her father abandoning her mother. Not the best student, Lola decided to cash in on her appearance while it was marketable and traveled to the United States. Lola first found work in Houston and later Miami before finally New York, but even then her modeling experiences were uninspired, at least to her, and she wasn't making the money she'd hoped for.
Moving to Los Angeles Lola hoped she might be able to get a role in some films, but she instead met Zoe Hollander and joined Models Inc. Miss Zoe quickly helped Lola catapult into international stardom, in 2008 alone being estimated to have made the fashion industry nearly a half-billion dollars, appearing on over a dozen magazine covers, headlining four fashion shows and being the face of one of Miss Zoe's main campaigns. Lola bought homes in Los Angeles, Rio De Janiero and Caxias Do Sul, specifically a penthouse in Utopia Towers. As 2009 began Lola suddenly felt like she was under-appreciated and began to drink excessively, resulting in Miss Zoe, while at a show in Barcelona, attempting to permanently freeze her with Type-7. Zoe's plans were foiled by Kayla LeFer and Lola returned to work, curbing her drinking problem a bit but still acting like a spoiled diva. Lola's working relationship with Kathryn Summers hasn't nearly been as strong as the one between her and Miss Zoe was.
Personal Information
Current Age: 28
Height: 5'10"
Weight: 123 lbs
Hair Color: Auburn Brunette
Eye Color: Blue
Bra Size: 34B
Hypnosis Rating: 1
Current Place of Residence: Caxias Do Sul, BR
Sexual Preference: Men
Relationships
Friends
Appearances
Canon
Trivia
Lola is physically modeled after Adriana Lima though Lola tends to have red hair.
Ad blocker interference detected!
Wikia is a free-to-use site that makes money from advertising. We have a modified experience for viewers using ad blockers

Wikia is not accessible if you've made further modifications. Remove the custom ad blocker rule(s) and the page will load as expected.