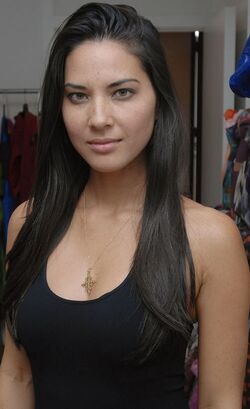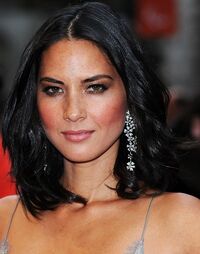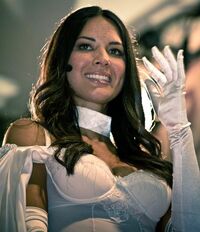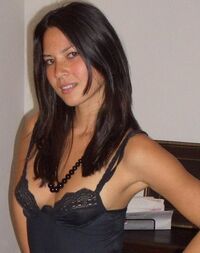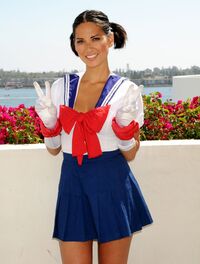 Lindsay Yari (born Daphne Alvarez in 1981) is a minor character in the Tuckerverse. A famous singer, Lindsay is known for combining both North American and Japanese pop music to create her own style.
Biography
Lindsay was born as Daphne Alvarez in Los Angeles, California, her mother Meilin Alvarez a playwright and her father a film grip. While Meilin was half-European and half-Chinese her husband has half-Filipino and half-Chinese, thus the Alvarez surname. Growing up Daphne was exposed to several cultures and as a result came to love the idea of cultural fusion. A favorite dish in Lindsay's youth was what she called 'Pizza Rice', which was essentially pizza toppings on top of Chinese fried rice. As Daphne grew older she also welcomed a younger sister, Jasmine Alvarez. The two got along well, but as Daphne got popular as she got older Jasmine became a bit embarrassed to be seen with her. When Daphne finished high school she spent a few years pursuing an entertainment career, leaving Los Angeles for a time and visiting places like Tokyo.
When Lindsay returned to Los Angeles she'd adopted the stage name Lindsay Yari, only going by Daphne in her private life. Zabel Darbinian had become Lindsay's talent agent and was quickly able to book her several high profile performances, debuting her unique style of music and performance. In 2007 Lindsay got her first #1 Single hit with 'Stop the Moment,' and while she hasn't had another #1 since she has sold millions of songs and albums, also selling out several concerts. Lindsay's acting career has also taken off, appearing in Legend of the Golden Apple and an episode of Savior. Not all of Lindsay's success has been beneficial however, as in Paris she ended up becoming a patron of Club Mannequin, ending up addicted to Type-7 along with her new friends Maris Stilton, Christine Huart and Arlette Bouchard. Palmira Tiago and the International Temporal Enforcement Agency helped save Lindsay from possible death.
Personal Information
Current Age: 28
Height: 5'4"
Weight: 120 lbs
Hair Color: Black
Eye Color: Hazel
Bra Size: 34B
Hypnosis Rating: 3
Current Place of Residence: Los Angeles, US
Sexual Preference: Men
Relationships
Family
Friends
Appearances
Canon
Trivia
Lindsay is a spoof of Britney Spears, though she is portrayed by actress/model Olivia Munn.
Lindsay Yari is not her real name, Yari being a type of Japanese spear.
Ad blocker interference detected!
Wikia is a free-to-use site that makes money from advertising. We have a modified experience for viewers using ad blockers

Wikia is not accessible if you've made further modifications. Remove the custom ad blocker rule(s) and the page will load as expected.