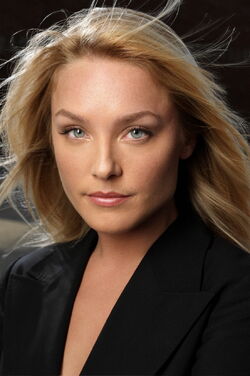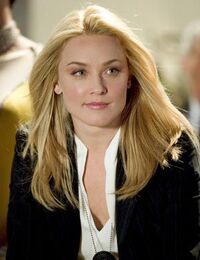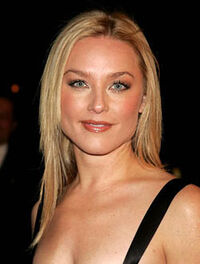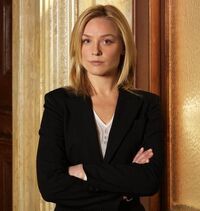 Lina Maier (born 1973) is a minor character in The IT Files. A recruiter for the International Temporal Enforcement Agency, Lina works in Human Resources and spends time scouting potential recruits for the agency.
Biography
Lina was born in Düsseldorf back when it was considered a part of West Germany, the younger of two siblings. Lina's parents were poor when she was young but by the time she was a teenager her father had managed to get a foreman position at a factory, leading to Lina wanting to be like him due to how respected he was. Lina invested a great deal of her high school years studying psychology and sociology. After finishing high school Lina spent some time working odd-jobs until attending classes at the Free University of Berlin, majoring in psychology with a minor in sociology.
After earning a degree in psychology Lina initially considered becoming a psychologist but was instead offered a job at her father's factory in human resources, looking to her to handle employee analysis. Before long Lina was done at the factory and became a consultant, traveling across Europe and spending quite a bit of time at several locations, studying people and offering aide to major companies. In 2004 Lina did her first work for law enforcement by lending her services to Europol. Lina ended up working frequently with Europol until 2008 when she returned to the private sector, but less than a year later her old friend Mira Stolar recommended her to Lucienne Christophe and the International Temporal Enforcement Agency. Lina is now an official recruiter for the ITEA, tasked with analyzing potential personnel in terms of personality.
When Sandy Vanholt froze time using the Stillsville Camera and the Durga Hourglass Lina was trapped inside ITEA HQ. With little to do outside of helping understand any psychological issues that personnel might be developing Lina became restless. Matthew Strathairn and Jin Pierce invited Lina along with them when they got a chance to rest, playing some freeze games with Type-7. Jin eventually froze Lina and Matthew for the duration of the event, only finally unfreezing them the next morning after taking them to the local Stilton Hotel.
Personal Information
Current Age: 36
Height: 5'8"
Weight: 125 lbs
Hair Color: Blonde
Eye Color: Blue
Bra Size: 36B
Hypnosis Rating: 2
Current Place of Residence: London, UK
Sexual Preference: Men
Relationships
Friends
Appearances
Trivia
Lina is physically based on actress Elisabeth Röhm.
Ad blocker interference detected!
Wikia is a free-to-use site that makes money from advertising. We have a modified experience for viewers using ad blockers

Wikia is not accessible if you've made further modifications. Remove the custom ad blocker rule(s) and the page will load as expected.