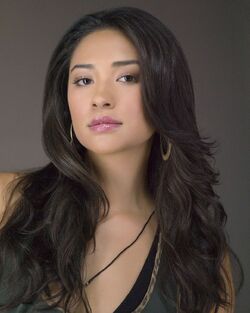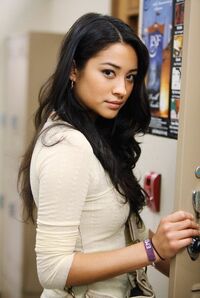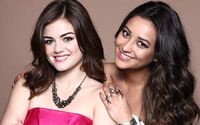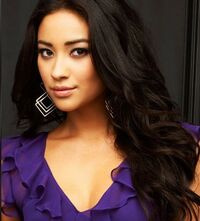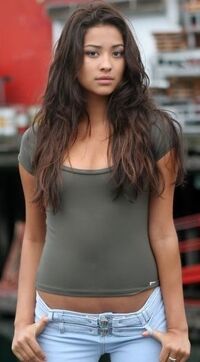 Leslie Chun (born 1987) is a minor character in Tucker's Wand and a statue in Tales from the Tuckerverse. A former volleyball player, business major and member of Phi Sigma Delta, Leslie is now a part of Susie Kim's alternate bodies collection known as Shoes.
Biography
Leslie is the daughter of Peter and Elizabeth Chun and is originally from San Francisco, California. Leslie's father is full-Chinese while her mother is German-American. She has two younger sisters, Dora and Piper. Peter and Elizabeth run a family dollar store in downtown San Francisco. Leslie has a first cousin, Diwata Quezon, through her father's side of the family.
She decided to go to Decker State College simply because they offered her a full athletic scholarship and the school has a privately owned beach. She is business management major along with her teammate and best friend Tami Tyler. She and Tami had come through high school together. They have been teammates since then as well.
During her senior year she and Tami decided to pledge the newly formed sorority Phi Sig Delta. Little did she knew that she would be given a ring that would control her completely thanks to a necklace. Prior to Leslie's graduation Susie Kim, who'd come to see Leslie as one of her favorite girls to take control of, decided to keep her as an alternate body, which she nicknamed 'shoes.' When Sandy Vanholt used the Durga Hourglass and the Stillsville Camera to freeze time on a global scale Leslie ended up being the body Susie was stuck in initially. Susie eventually got free and, a few weeks after the incident, arranged for Leslie to disappear properly.
Personal Information
Current Age: 22 (Aging Suspended)
Height: 5'7.5"
Weight: 120 lbs
Hair Color: Black
Eye Color: Dark Brown
Bra Size: 32B
Residence
See: Phi Sigma Delta Sorority House
Relationships
Family
Friends
Appearances
Trivia
Ad blocker interference detected!
Wikia is a free-to-use site that makes money from advertising. We have a modified experience for viewers using ad blockers

Wikia is not accessible if you've made further modifications. Remove the custom ad blocker rule(s) and the page will load as expected.