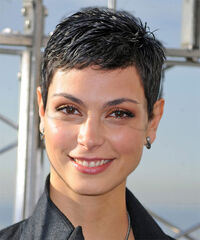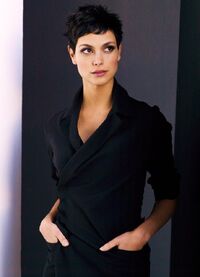 Leocadia Braga (born 1979) is supporting character in the IT Files. Leocadia is also known as the Smuggling Queen of Madrid. A graduate of Oxford's school of business, Leocadia is the leader of the Madrid smuggling organization Sombra de la Mano. Interpol managed to arrest Leocadia and she is currently in jail thanks to her rival Sonia Castillo.
Biography
Leocadia was born in Madrid, Spain, to a small-time smuggler and one of his employees. Leocadia was primarily raised by her father, her mother running off when she was four, confirmed to have died in a traffic accident a few years later. Leocadia's father never made more than seven figures a year, making him small-time overall in Madrid, but several of things he taught Leocadia would prove invaluable later on. A very gifted student, Leocadia was accepted to Oxford University in the United Kingdom and studied business.
After graduating with a Master's degree Leocadia had several corporate offers but instead elected to return home and take over the family business, her father dying of lung cancer. Formally naming the organization Sombra de la Mano (roughly translated as Shadow of the Hand), Leocadia took the group to new heights, quickly squashing potential rivals and before long becoming the top smuggler in all of Spain, allowing her to join the Smuggling Queens. Interpol began hounding Leocadia but she was able to stay a step ahead of them, in particular Sonia Castillo. Adrianna Dashkov ended up being Leocadia's downfall, the Type-7 smuggler giving Interpol and the International Temporal Enforcement Agency the break they needed to arrest her and shut her organization down.
Personal Information
Current Age: 30
Height: 5'7.5"
Weight: 125 lbs
Hair Color: Black
Eye Color: Brown
Bra Size: 34B
Hypnosis Rating: 5
Tattoo: Black Handprint in Small of Back
Current Place of Residence: Madrid, ES
Sexual Preference: Men
Relationships
Employees
Friends
Appearances
Canon
Trivia
Leocadia is based off of Brazilian turned American actress Morena Baccarin.
Leocadia's tattoo is the symbol of her organization.
Ad blocker interference detected!
Wikia is a free-to-use site that makes money from advertising. We have a modified experience for viewers using ad blockers

Wikia is not accessible if you've made further modifications. Remove the custom ad blocker rule(s) and the page will load as expected.