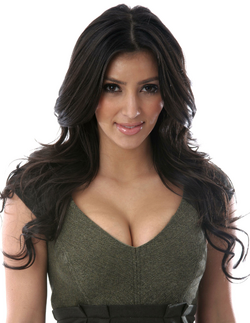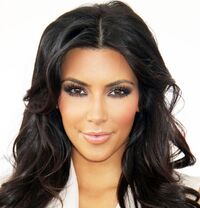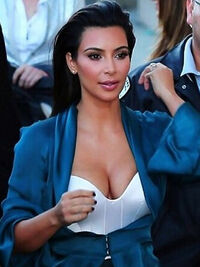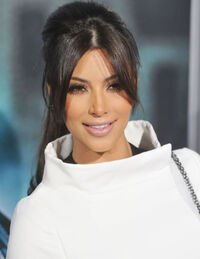 Kimberly Corrigan (born 1980), always called Kim, is a minor character in the Tuckerverse. Originally a model and socialite, she later became a reality TV star and 'field reporter' for celebrity gossip shows such as P! News.
Biography
Kim was born in Atlanta, Georgia, the middle child of three daughters. Kim's father was a founder of Stacks and of Armenian descent, and her mother Chris Corrigan was a Dutch-born home-maker. As Stacks became a runaway success Kim and her sisters Courtney and Chloe quickly became spoiled. In 1994 the family moved to Los Angeles, their father becoming President of Stacks while his business partners handled positions such as CEO, COO and CFO. In high school Kim was a social queen and spoiled rotten, her parents having gotten her a Lamborghini for her first car. After finishing high school Kim quietly flunked out of college in New York and began to work as a spokes-model for Stacks. Kim's early work for her father's company allowed her to parlay various other modelling jobs, though she was never treated as a true fashion model.
In 2004 tragedy struck when Kim's father was arrested for sexual assault, but before the case could go to trial he was murdered in prison. The very-public drama turned Kim into an instant celebrity, P! News soon producing a reality show designed to focus on her, though her family was also featured and the programmed was dubbed The Corrigans. Kim starred on The Corrigans for several years until deciding to focus on other potential show ideas in 2008. P! News continues to employ Kim as a gossip reporter.
Personal Information
Current Age: 29
Height: 5'2.5"
Weight: 141 lbs
Hair Color: Black
Eye Color: Dark Brown
Bra Size: 34D
Hypnosis Rating: 0
Current Place of Residence: Los Angeles, US
Sexual Preference: Men
Relationships
Family
Friends
Appearances
Trivia
Kim is a spoof of model turned TV personality Kim Kardashian.
Ad blocker interference detected!
Wikia is a free-to-use site that makes money from advertising. We have a modified experience for viewers using ad blockers

Wikia is not accessible if you've made further modifications. Remove the custom ad blocker rule(s) and the page will load as expected.