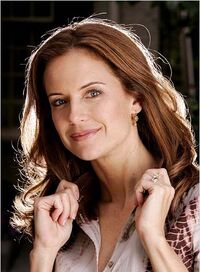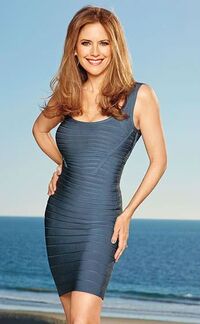 Katrina Vanholt (born 1964) is a controlled character in Tales from the Tuckerverse. The wife of former United States Senator Cyrus Vanholt, Katrina was a regional manager with Gold Standard banks. Katrina funded her daughter Sandy Vanholt's education at Decker State College after her husband's money was seized, but when his trial began she elected to flee the United States due to the possibility of embarrassment. Michelle Gim instead froze Katrina with Type-7, and later Sandy decided to keep her mother frozen after freezing Michelle. Utopia Holdings ended up eventually using a Type-7 Chip to turn Katrina into their Chief Financial Officer.
Personal Information
Current Age: 45
Height: 5'7"
Weight: 125 lbs
Hair Color: Brunette
Eye Color: Blue
Bra Size: 34C
Hypnosis Rating: 4
Current Place of Residence: Caxias Do Sul, BR
Sexual Preference: Men
Special Notes: Needs Glasses (Usually Wears Contacts)
Relationships
Family
Masters
Fellow Executives
Friends
Appearances
Trivia
Katrina is based on actress Kelly Preston.
Ad blocker interference detected!
Wikia is a free-to-use site that makes money from advertising. We have a modified experience for viewers using ad blockers

Wikia is not accessible if you've made further modifications. Remove the custom ad blocker rule(s) and the page will load as expected.