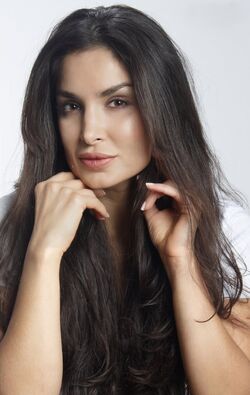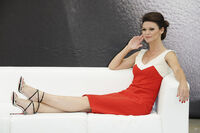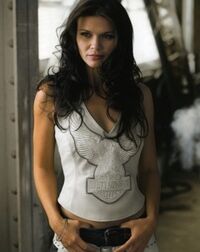 Kathleen Rudd (born 1982) is a minor character in the IT Files. She is a junior investigator working the grand theft division of Interpol. Kathleen deals with the theft of priceless items such as historical artifacts and museum pieces while under the guidance of a senior investigator. She works closely with insurance companies and local law enforcement officials.
Biography
Kathleen was born in London, England to an American diplomat and an British socialite. She lived in Great Britain for most of her childhood along with her older brother and sister. When she was eleven her family moved to Moscow, Russia.
After spending the rest of her childhood in Moscow Kathleen moved to the states to attend college. She is accepted in George Washington University located in Washington DC. There Kathleen decides to major in international law. Being the daughter of diplomat opened Kathleen's eyes to a wide scope of international crime and she felt she could make a difference in deterring it.
She applied and was accepted into Interpol where she worked as undercover operative dealing with global organized crime. Her first assignment was a dangerous one that put her deeper into a criminal organization. Her cover was so deep that she eventually lost her real self and nearly became a criminal herself. Sophia Katsopolis who was Kathleen's handler at the time rescued her before any real damage was done.
Kathleen realized that it was time for a break in undercover work, though she loved she needed time away from the lies that the work brought with it. She decided to transfer to another division, the Grand Theft division. As an investigator of this division she faces less dangerous assignments and able to travel the world. Kathleen is partnered with senior investigator Janice Wang. A major assignment the duo ended up investigating was smuggling in Hamunaptra. Partnered with International Temporal Enforcement Agency GRID agents Yeardley Luxby and Avrum Zurer, Kathleen and Janice ended up discovering a smuggling operation run by Kira Chase and Stan Criswell. Janice was put under the control of a Type-7 Chip and shot at Kathleen which ended up leaving an impact on her, as did waking up the next day in a tryst with Avrum thanks to some fun on the part of Scott Dawson.
Personal Information
Current Age: 27
Height: 5'5"
Weight: 117 lbs
Hair Color: Black
Eye Color: Brown
Bra Size: 32C
Hypnosis Rating: 3
Current Place of Residence: Lyon, FR
Sexual Preference: Men
Relationships
Partner
Appearances
Canon
Trivia
Kathleen is physically based on actress Danielle Vasinova.
Ad blocker interference detected!
Wikia is a free-to-use site that makes money from advertising. We have a modified experience for viewers using ad blockers

Wikia is not accessible if you've made further modifications. Remove the custom ad blocker rule(s) and the page will load as expected.