Kathleen Rudd
Comments

0
1,363pages on
this wiki
Kathleen Rudd (born 1982) is a minor character in the IT Files. She is a junior investigator working the grand theft division of Interpol. Kathleen deals with the theft of priceless items such as historical artifacts and museum pieces while under the guidance of a senior investigator. She works closely with insurance companies and local law enforcement officials.
Biography
Edit
Kathleen was born in London, England to an American diplomat and an British socialite. She lived in Great Britain for most of her childhood along with her older brother and sister. When she was eleven her family moved to Moscow, Russia.
After spending the rest of her childhood in Moscow Kathleen moved to the states to attend college. She is accepted in George Washington University located in Washington DC. There Kathleen decides to major in international law. Being the daughter of diplomat opened Kathleen's eyes to a wide scope of international crime and she felt she could make a difference in deterring it.
She applied and was accepted into Interpol where she worked as undercover operative dealing with global organized crime. Her first assignment was a dangerous one that put her deeper into a criminal organization. Her cover was so deep that she eventually lost her real self and nearly became a criminal herself. Sophia Katsopolis who was Kathleen's handler at the time rescued her before any real damage was done.
Kathleen realizing that undercover work was not for her, even though she was good at it. She decided to transfer to another division, the Grand Theft division. As an investigator of this division she faces less dangerous assignments and able to travel the world. Kathleen is partnered with senior investigator Janice Wang.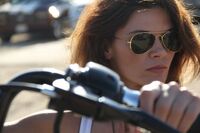 Relationships
Edit
Appearances
Edit
Kathleen is physically based on actress Danielle Vasinova.