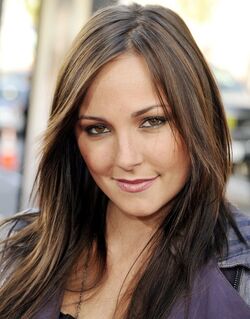 Jelena Zora Hendraille (born 1982) is a supporting character in Clockwork and The IT Files. Formerly a combat expert with Interpol she later joined the International Temporal Enforcement Agency. Jelena is the Assistant Director for the ITEA tactical wing as well as a member of Team Alpha.
Biography
Forged by Fire

Jelena was born in Osijek, Croatia, the older of two daughters born to a doctor his wife Senka Hendraille. Jelena grew up in a period of change, Croatia declaring independence from Yugoslavia in 1991. War broke out, the events of which led to Jelena's father being murdered by Yugoslavian soldiers while he tried to help people that were injured during a raid. This incident led to Jelena taking revenge for her father's death, picking up a weapon and killing the two men that had killed her father. Jelena's focus on revenge and Senka's grief caused the younger daughter, Jelena's sister, to be lost, later declared to have been killed in a fire that destroyed their home. Upon escaping from Osijek, Jelena and Senka were both psychologically evaluated. Despite the instinctive way Jelena had taken vengeance for her father's death, she was declared to not be suffering from any related mental health issues. The only trauma that would ultimately manifest in Jelena is a fear of fire, brought on by her sister's death. Jelena and her mother spent two years as refugees in Italy before returning to Osijek to rebuild.

Driven to Justice

The relationship between mother and daughter has strained again when Jelena became fascinated with guns as she grew up. In high school, Jelena joined a hunting club, soon setting local records with virtually any firearm she was given. Fears returned that Jelena might be unstable, but further psychological tests showed she seemed almost at peace whenever she held a gun. The fact troubled Senka greatly, who by that point had become a doctor herself, and the relationship never recovered. Lacking many friends, Jelena spent more and more time at the hunting club, her first romantic relationship with a much older man who was also a member. Upon graduating from high school Jelena was gifted a Zabala Model 711 by the hunting club, which became one of her prized possessions.

Leaving Osijek, Jelena ended up becoming a police officer in Split. Despite qualifying as an officer, Jelena was kept off the streets for nearly a year, many of her superiors afraid that she might be a risk due to her unusual comfort in employing firearms. The fears ultimately proved unfounded as for over three years Jelena never once drew a weapon while enforcing the law. A high profile incident ended up occurring in 2004, which saw Jelena save hostages being held in a bank that she'd also been stuck inside. Interpol agents were on hand to witness the incident and Jelena was soon recruited.
Rising Star

Colette Landry became one of her first true friends during Jelena's training, the two also getting to know Aisha Reynolds. Fast-tracked for tactical training, Jelena demonstrated natural leadership during stressful situations and was often compared favorably to fellow agent Hui Lan. Besides her work with Colette and Aisha, Jelena spent some time in Finland, working two cases with Jean-Baptiste Odilon. Some further psychological issues did finally arise, though this came about due to her lack of friends prior to joining Interpol. Not only did Jelena once unfoundedly accuse another agent of trying to seduce her, but she suspected Colette might have romantic feelings for her, which caused friction between the two.

Jelena was recruited to join Lucienne Christophe's taskforce to destroy the Paradise Foundation based on the recommendation of both Colette and JB. After Hui Lan was frozen by a Time-Stopper Jelena became the head of the force's tactical unit, even helping launch a heavy defense of the United Nations in New York when Angel Jenly was targeted. The incident saw Jelena get shot for the first time in her career, and she was hospitalized for two days. Colette ended up staying by Jelena's side the entire time. After the fall of the Foundation, Jelena joined Tasia Spiro's new special Interpol unit, helping to capture Charles Truman III.



Arsenal of Alpha

Soon after capturing Truman the International Temporal Enforcement Agency was formed and Jelena was assigned to Team Alpha, which was essentially her old team from Interpol. Jelena was also made the Assistant Director of the Tactical Wing, being a weapons expert and the only person in the agency who was a better shot than Hui Lan. Jelena's attempts to make friends saw some improvement, but she still was felt to be a bit anti-social. Despite this, Jelena helped push William Volt to pursue Suzanna Ortiz and would befriend Colette's cousin Ariel Landry when she joined the agency. Ashley Tisdale's return saw Team Alpha decimated after Tasia was suspended, leading to a disastrous run with Palmira Tiago serving as the leader. While Jelena tried not to hold a grudge, she lost respect for her superior.

Months after the Tisdale incident, Jelena joined several senior agents on a ski trip, during which time the tension between Colette and herself had reached massive levels. After an encounter with Barry Finnegan Colette finally just told Jelena her true feelings, namely that she was just interested in being friends and was actually straight. The awkward gesture led to Jelena and Colette formally admitting that they were best friends, ending years of awkwardness. The powerful bond between Colette and Jelena was made clear when Ouroboros tried to kidnap them along with Ariel, Jelena being seriously hurt in a vain attempt to save her best friend. Jelena then volunteered to act as a bodyguard for Tasia Spiro when she was requested to be exchanged for Colette at Waterloo Station, ignoring her injuries. In spite of her best efforts Jelena was frozen by a Chrono Flash but luckily Colette was still rescued during the chaos that followed.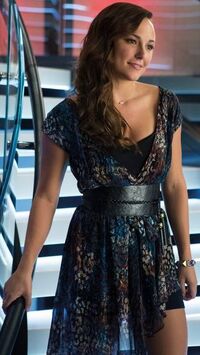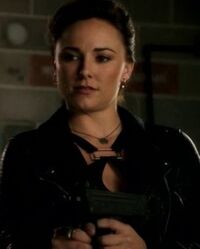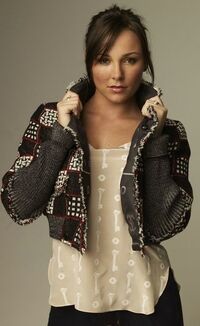 Personal Information
Current Age: 27
Height: 5'6"
Weight: 120 lbs
Hair Color: Dark Brunette
Eye Color: Dark Brown
Bra Size: 32C
Hypnosis Rating: 5
Current Place of Residence: London, UK
Sexual Preference: Men
Nickname: Lena
Favorite Food: Traditional Poutine
Phobia: Fire
Personal Items
Special Skills
Combat-style Krav Maga martial arts, specializing in grappling.
Marksmanship, specifically pistols, sub-machine guns, shotguns and rifles.
Administrative Knowledge, specifically field and tactical command.
Trilingual, knowing Croatian, Hungarian and English.
Relationships
Family
Teammates
Friends
Appearances
Canon
Trivia
Jelena is physically based on actress Briana Evigan.
Jelena's favorite food is poutine, having been introduced to it by Colette.