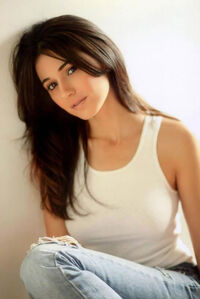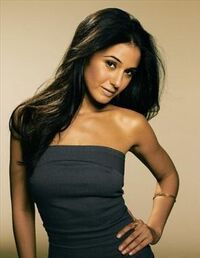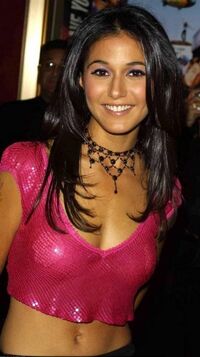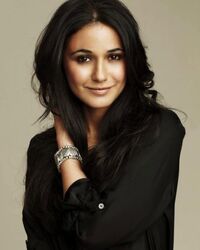 Irina Popov (born Irina Kovar in 1977) is a minor character in The IT Files. The wife of Ivan Popov, she's an aspiring actress, specializing in stage performance.
Biography
Born in Ufa, Russia, Irina grew next to a popular theater that hosted all kinds of shows, from plays to ballets. Enamored with the stage, from a young age Irina wanted to become an actress, her parents approving, though her mother did at times suggest she learn something that would be more transferable to other careers just in case. Though she did later pick up basic business skills like accounting Irina's focus remained performance arts, learning to sing, dance, act and even speak English so she could one day move elsewhere. After finishing school and attending a post-secondary acting academy Irina moved to Moscow, performing in several plays and even appearing a couple of local movies, gaining minor international attention for her short appearance in Moscow Knights.
During an Interpol investigation into the possibility that a performer at the theater was an international smuggler Irina met Ivan Popov, who after finishing the investigation began attending her shows and, after a couple of months, the two began dating. Irina grew greatly attracted to his strong sense of justice and also envied him a bit for how much travel he was able to do while she was still stuck in Moscow in spite of doing fairly well, not needing another job to pay her bills by the time she was twenty-four. The two eventually got engaged but remained in such a state for nearly two years until shortly after Ivan first worked with Lucienne Christophe, the couple getting married at long last. Months later when Ivan was offered a job with the International Temporal Enforcement Agency Irina insisted he take it, embracing that the agency was based out of London. After the move Irina began performing at the famous West End, though she hasn't gotten the level of fame she'd like just yet.
Personal Information
Current Age: 32
Height: 5'3"
Weight: 119 lbs
Hair Color: Black
Eye Color: Brown
Bra Size: 34C
Hypnosis Rating: 1
Current Place of Residence: London, US
Sexual Preference: Men
Filmography
| Year | Name | Format | Role | Notes |
| --- | --- | --- | --- | --- |
| 2001 | Waiting for Godot | Play | Vlatka | First Starring Role |
| 2002 | The Cherry Orchard | Play | Varya | |
| 2003 | Children of the Sun | Play | Melanya | |
| 2004 | The Seagull | Play | Nina Mikhailovna Zarechnaya | |
| 2004 | Reckoning Day | Film | Cigarette Woman | First Film Role |
| 2005 | The Wood Demon | Play | Helena | |
| 2006 | Letters of Blood | Film | Ivana | Box Office Disappointment |
| 2006 | Moscow Knights | Film | Adrianna Dashkov | Second Highest Grossing Film of 2006 |
| 2007 | Three Sisters | Play | Olga Sergeyevna Prozorova | Final Play in Moscow |
| 2008 | Hamlet | Play | Gertrude | First London West End Role |
| 2008 | A Christmas Carol | Play | Belle | Starred Opposite Peter Stuart and Kathy Beckinstaff |
Relationships
Family
Friends
Appearances
Trivia
Irina is physically based on actress Emmanuelle Chriqui.
Due to how dedicated he is Irina has several nicknames for Ivan that reference it, including calling him Superman and cowboy quite a bit.
Ad blocker interference detected!
Wikia is a free-to-use site that makes money from advertising. We have a modified experience for viewers using ad blockers

Wikia is not accessible if you've made further modifications. Remove the custom ad blocker rule(s) and the page will load as expected.