H&K USP45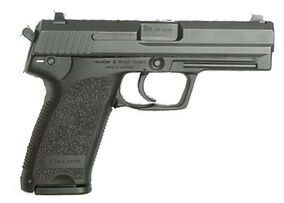 Classification: Semi-Automatic Pistol
Year Introduced: 1993
Country of Origin: Germany
Created By: Heckler & Koch
Caliber: .45 ACP
Capacity: 12
The H&K USP45 is a sidearm developed by Hecker & Koch, which has since been adapted for use globally with law enforcement and military, based on the designs of the H&K Mark 23.
Overview
The original USP was developed by Heckler & Koch for possible use in American markets, starting off chambered for 9mm before offering larger models. the USP45 boasts the stopping power of a traditional Colt sidearm while containing modern design to lessen recoil and hold a larger capacity of ammunition.
Use
Interpol began using the USP45 as their standard issue sidearm in 1999. While some agents do carry different sidearms the USP45 is standard-issue.
While the International Temporal Enforcement Agency doesn't officially have the USP45 as a standard sidearm option for field agents, many of the agency's members are formerly of Interpol. Some agents have carried over their USP from Interpol, even modifying them to fire Type-7 darts.
Parker Reich has a USP she stole from the International Temporal Enforcement Agency, though she generally keeps it for collection purposes.
Ad blocker interference detected!
Wikia is a free-to-use site that makes money from advertising. We have a modified experience for viewers using ad blockers

Wikia is not accessible if you've made further modifications. Remove the custom ad blocker rule(s) and the page will load as expected.