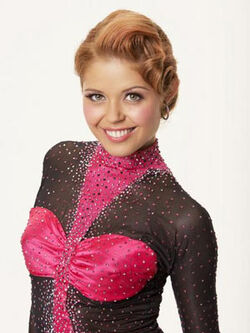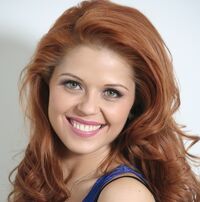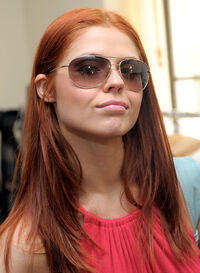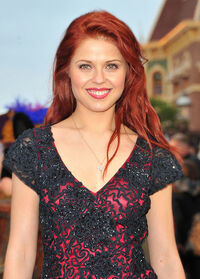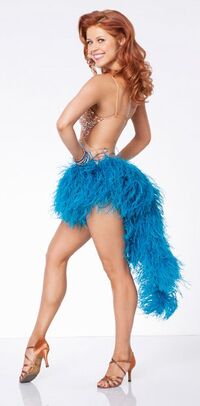 Ginger Cladwell (born 1985) is a supporting character in Tucker's Wand. A good friend of Haley Leone and Kayla LeFer, Ginger is the wealthiest of the three, coming from a wealthy family and being worth millions herself. Ginger is well-versed in many forms of dance and is a professional ballroom dancer, even owning her own school in the form of Ginger's School of Dance.
Biography
Ginger was born in Boston, Massachusetts to an heir to an airline company, her mother was married into the family but was an accomplished ballerina from Russia. During her junior year in high school her father was stricken with a rare illness and died very quickly of it. Her mother would follow soon after unable to cope with the lost of her husband her health had deteriorated. The couple had left everything to their only daughter when she turned twenty-one.
After high school and recovering from the lost of her parents Ginger went on to attend the renowned Julliard school of the arts. She was a talented dancer to begin with inheriting the the traits from her mother so attendance and the school was easy for her. At Julliard she she studied and excelled at almost all forms of dance but her love like her mother before her was ballet. During her final years at the famous school she was only a part-time student as she was recruited to dance for a Russian dance troupe based in Moscow. She was very popular among the troupe being the only American.
She finished Julliard at the age of twenty-one as an experienced and professional ballerina. Ginger had also inherited her family's fortune at this time as well and was fairly wealthy. As she was preparing to travel with her troupe she was approached by interim CEO of Stone Enterprises' Patricia Mero who made an offer to buy out her father's company. Knowing nothing about business Ginger agreed and was made even more wealthy through the deal. She also bought stock in Stone Enterprises as well to make sure she would always be rich.
Ginger did Ballet for another year before she grew bored and decided to go into ballroom dancing. Being a naturally talented dancer the picked it up rather quickly and became pro. She competed in circuits all over the world never finishing below third place. After several championships she became bored, mostly because of the traveling. Hanging up her dance shoes in competitive sense Ginger moved to California and settled down in Los Angeles. She still traveled occasionally competing for fun in charity events but for the most part she stayed in Los Angeles.
Keeping in shape for dance Ginger enrolled herself for no credit in community college courses for various styles of dance. This is where she would meet her only true friends Haley Leone and Kayla LeFer. Both women looked at Ginger as one of the girls despite her celebrity status and she cherished that about them. Ginger was blunt, snobbish and stuck up, personality traits that make it difficult to make real friends. Most of her other friends were into her for her money and fame but not Haley and Kayla. Secretly Ginger loved the two girls like sisters and would do anything for them. Due to her success as a dancer Ginger was able to retire from regular competition and open Ginger's School of Dance while also being a guest on some televised dance-related programs.
Personal Information
Current Age: 24
Height: 5'4"
Weight: 112 lbs
Hair Color: Redhead
Eye Color: Green
Bra Size: 34C
Hypnosis Rating: 1
Current Place of Residence: Los Angeles, US
Sexual Preference: Men
Relationships
Friends
Appearances
Canon
Trivia
Ginger is based off of real life professional ballroom dancer Anna Trebunskaya.
Of her two best friends, Ginger is the one that Haley does not mind when Tucker or Maggie freeze for fun.