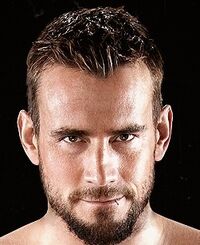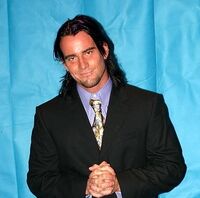 Giles Taureau (born 1978) is a minor character in The IT Files. The seduction expert of the Fortune Finders, he helped attempt a mass kidnapping at the Fortune Sea Resort. Team Gamma of the International Temporal Enforcement Agency ended up capturing Giles and the rest of the gang, landing them all in jail. Roughly half a year later Giles was able to sweet-talk members of the prison staff into helping him escape, making his way to Los Angeles. As a part of a Fortune Finders plot Giles froze a class at Ginger's School of Dance to steal Kayleen Cory's pass to Stone Drug Labs.
Personal Information
Current Age: 31
Height: 6'2"
Weight: 218 lbs
Hair Color: Brunette
Eye Color: Green
Hypnosis Rating: 4
Current Place of Residence: Unknown
Sexual Preference: Women
Relationships
Appearances
Trivia
Giles is physically modeled on former wrestler Phil Brooks, better known as CM Punk.
Ad blocker interference detected!
Wikia is a free-to-use site that makes money from advertising. We have a modified experience for viewers using ad blockers

Wikia is not accessible if you've made further modifications. Remove the custom ad blocker rule(s) and the page will load as expected.