FN P90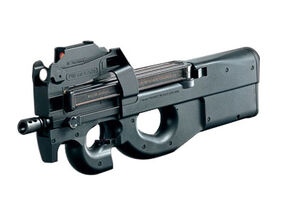 Classification: Personal Defense Weapon
Year Introduced: 1991
Country of Origin: Belgium
Created By: FN Herstal
Caliber: FN 5.7×28mm
Capacity: 50
The FN P90 is a Personal Defense Weapon developed by FN Herstal, which has since been adapted for use by military and police forces across the globe.
Overview
In the 1980s FN Herstal began work on a Personal Defense Weapon, wanting a weapon slightly different than a traditional sub-machine gun. The resulting hybrid was the bullpup P90, which is capable of high armor penetration and rate of fire, but with higher accuracy than a traditional SMG.
Use
Chloe Noi selected the P90 to be the standard automatic weapon used by Spydoll Inc, registering her weapons as private-contract submachine guns. It was only thanks to affiliation with Noi Industries the Spydoll Inc was able to get away with it. The Spydoll P90s are modified to fire Type-7 darts.
Ad blocker interference detected!
Wikia is a free-to-use site that makes money from advertising. We have a modified experience for viewers using ad blockers

Wikia is not accessible if you've made further modifications. Remove the custom ad blocker rule(s) and the page will load as expected.