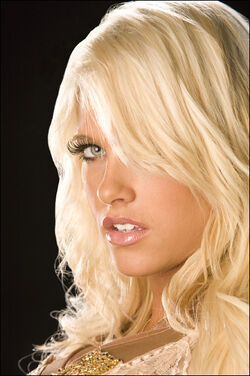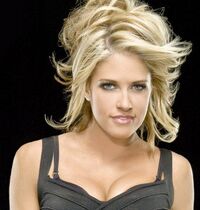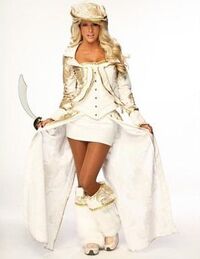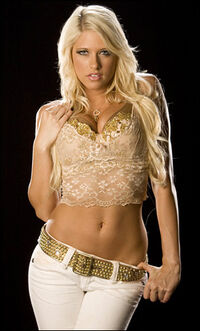 Evelyn Mero (born 1987), sometimes called Eve or Lyn, is a minor character in The IT Files. Half-sister to Patricia Mero, Evelyn was Miss New York 2008 and is currently a fashion model.
Biography
Evelyn was born in New York, New York, USA. The daughter of a Wall Street banker and his secretary, it being his second marriage, Evelyn grew up wealthy but resented by her father's ex-wife and first daughter Patricia Mero. Evelyn didn't meet Patricia until 2002 when there was an effort on Patricia's part to create a relationship, but large age difference proved problematic. Evelyn would none the less occasionally contact Patricia and vise-versa, thus while not close they did stay in communication.
After high school Evelyn was interested in studying abroad but instead got roped into modelling by her interested mother, ending up doing work for local businesses her father had connections with. Eventually Evelyn was crowned Miss New York 2008 and in the following Miss America pageant placed 3rd, her talent portion being a dance number that relied on her background in high school cheerleading. Evelyn's national exposure at the Miss America pageant led her to being signed with a major New York modelling company, catapulting her to super-model status. Both Cordelia Modeling Agency and Models Inc have been looking to steal her away from her current employer.
Personal Information
Current Age: 22
Height: 5'5"
Weight: 108 lbs
Hair Color: Blonde
Eye Color: Light Blue
Bra Size: 34DD
Hypnosis Rating: 4
Current Place of Residence: New York, US
Sexual Preference: Men
Relationships
Family
Friends
Appearances
Canon
Trivia
Evelyn is based on former WWE Diva turned model Kelly Kelly AKA Barbara Blank.
Ad blocker interference detected!
Wikia is a free-to-use site that makes money from advertising. We have a modified experience for viewers using ad blockers

Wikia is not accessible if you've made further modifications. Remove the custom ad blocker rule(s) and the page will load as expected.