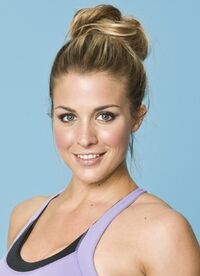 Eva Bingham (born 1984) is a minor character in The IT Files. A part of the International Temporal Enforcement Agency, Eva is an assistant with the accounting department.
Biography
Eva was born in Bolton, Manchester, UK, alongside her twin sister Donna Bingham. Even as a child Eva was savvy for numbers, being the girl in her youth football team to track statistics in their league. By high school Eva's math skills had her in advanced classes, putting her in calculus before even going to college. For university Eva wanted to go to Oxford but her family lacked the money, thus she spent a year as an amateur model in London to make the money. Eva ended up in a four year bachelor program and managed to graduate with a specialty in accounting.
While looking for real work in London Eva modelled a bit more before finally getting hired by David Falk, the head of accounting for the International Temporal Enforcement Agency, as an assistant. While in some ways Eva, even according to David, could run the department, the job is giving her valuable experience, which was the main thing she lacked. While popular in some circles many at the ITEA like to prank Eva as she does a large amount of the department's dirty work.
Personal Information
Current Age: 25
Height: 5'9"
Weight: 130 lbs
Hair Color: Brunette with Blonde Highlights
Eye Color: Green
Bra Size: 36E
Hypnosis Rating: 1
Current Place of Residence: London, UK
Sexual Preference: Men
Special Notes: Twin Sister Donna Bingham
Relationships
Family
Romances
Friends
Appearances
Canon
Trivia
Eva is physically based on model/actress Gemma Atkinson, the character's name coming from her character in Red Alert 3.
Ad blocker interference detected!
Wikia is a free-to-use site that makes money from advertising. We have a modified experience for viewers using ad blockers

Wikia is not accessible if you've made further modifications. Remove the custom ad blocker rule(s) and the page will load as expected.