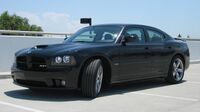 The Dodge Charger is a type of muscle car, semi-compact and sports sedan produced by the Dodge division of Chrysler, with variants produced from 1966 to the present day. Known for speed, modern models can seat up to five people.
Owners
Featured
Trivia
Has been featured in the most stories in the Tuckerverse.
Was originally a Dodge Challenger coupe but changed to Charger Sedan in Collaring the Kitten.