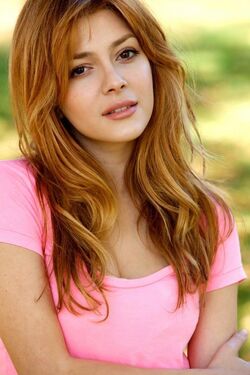 Diane West (born 1987) is a minor character in Tucker's Wand and Tales from the Tuckerverse. Diane is a photography student at Decker State College and is employed as a photographer for Models Inc. Diane is a redhead who favors dumpy boyish clothing over clothing more fitting to her frame. She is more attractive than she leads other to believe, even model like in some aspects. Diane mainly wears the clothes she does as she prefers to be behind the camera instead of in front and she wants to keep it that way as well.
Personal Information
Current Age: 22
Height: 5'7"
Weight: 110 lbs
Hair Color: Redhead
Eye Color: Green
Bra Size: 34B
Hypnosis Rating: 3
Current Place of Residence: Malibu, US
Sexual Preference: Men
Relationships
Friends
Appearances
Trivia
Ad blocker interference detected!
Wikia is a free-to-use site that makes money from advertising. We have a modified experience for viewers using ad blockers

Wikia is not accessible if you've made further modifications. Remove the custom ad blocker rule(s) and the page will load as expected.