Desert Eagle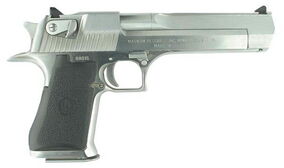 Classification: Semi-Automatic Pistol
Year Introduced: 1982
Country of Origin: United Stated/Israel
Created By: IMI Magnum Research
Caliber: .50 Action Express
Capacity: 7
The Desert Eagle is a sidearm developed by IMI Magnum Express, which has since been popularized by the media as an extremely powerful handgun.
Overview
In the 1980s Magnum Research began working with IMI to create a very powerful pistol, the resulting models chambering nothing smaller than a .357 Magnum. Modern Desert Eagles fire .50 AE, and the recoil is so powerful it can break a person's arm if not held correctly. The Desert Eagle is designed in some ways like a sawed-off rifle.
Use
Sarah Hardy wanted to initially test large-caliber darts for Type-7 use, thus she began modifying Desert Eagles for use with Ouroboros. While the test was successful she's since moved on to the FN Five-seveN.
CyTek elected to employ the Desert Eagle with the CyTrooper Program, wanting to test if the enhanced strength granted by the suits would make the weapon more practical.
Ad blocker interference detected!
Wikia is a free-to-use site that makes money from advertising. We have a modified experience for viewers using ad blockers

Wikia is not accessible if you've made further modifications. Remove the custom ad blocker rule(s) and the page will load as expected.