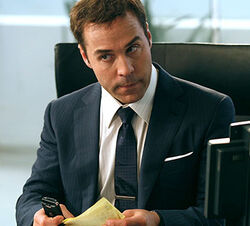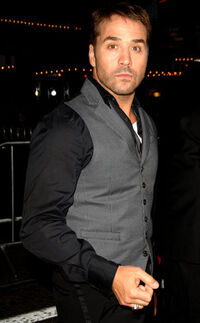 David Falk (born 1968) is a minor character in The IT Files. A part of the International Temporal Enforcement Agency, David is the head of accounting.
Biography
David was born in Ashdod, Israel, the first member of his family to be born in the country. In his youth David managed to avoid much of the conflict that surrounded his country, though when he was sixteen his father was tragically killed in a bombing. Not one for vengeance but still a bit of a patriot, David became interested in working for the government in some way after high school and interned with the Israel Central Bureau of Statistics or CBS while going to university, his subject of choice being Statistics. It was David's minor in Accounting that would later decide his career however as after a few years with CBS he was recruited by Discount Bank group. By his mid thirties David was a junior executive with the bank but drug violence had begun to tear apart his old neighborhood in Ashdod, which led to him joining the Organized Drug Enforcement Task Force (ODETF) as a financial analyst. While with the ODETF David formed an unlikely friendship with Avrum Zurer, who like David had list his father in to a bombing, the two men managing to deal with some residual grief as a result of their bond.
When the International Temporal Enforcement Agency was formed word reached the ODETF, mainly due to their interest in Type-7. David initially applied to be an analyst but was instead recruited to be the head accountant, something that both annoyed and pleased him at the same time. The rampant abuse of Type-7 within the ITEA is a large point of contention for David, who feels its a waste of money and hypocritical in spite of the lack of illegal activity associated with it within the office. In spite of his constant battles with Lucienne Christophe however she and David are friends.
Personal Information
Current Age: 41
Height: 5'8"
Weight: 160 lbs
Hair Color: Brunette
Eye Color: Brown
Hypnosis Rating: 2
Current Place of Residence: London, UK
Sexual Preference: Women
Relationships
Friends
Appearances
Canon
Trivia
David is physically based on actor Jeremy Piven.
Ad blocker interference detected!
Wikia is a free-to-use site that makes money from advertising. We have a modified experience for viewers using ad blockers

Wikia is not accessible if you've made further modifications. Remove the custom ad blocker rule(s) and the page will load as expected.