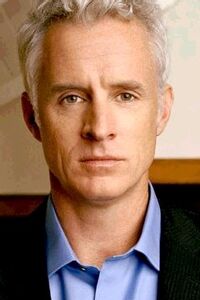 Cyrus Vanholt (born 1963) is a minor character in the Tuckerverse. A politically ambitious man, Cyrus became the Junior Senator of California at age thirty-six but in late 2008 was arrested for embezzlement and fraud. It was later revealed Cyrus is also gay but kept it a secret from everyone, including his family. Petra Wolf helped contribute to Cyrus's downfall by using hypnosis to get information out of Katrina Vanholt about his secrets, then turning them over to his enemies.
Personal Information
Current Age: 46
Height: 5'10"
Weight: 164 lbs
Hair Color: White, formerly Brunette
Eye Color: Green
Hypnosis Rating: 2
Current Place of Residence: Avenal, US
Sexual Preference: Men
Relationships
Family
Friends
Appearances
Trivia
Cryus is based on actor John Slattery.
Ad blocker interference detected!
Wikia is a free-to-use site that makes money from advertising. We have a modified experience for viewers using ad blockers

Wikia is not accessible if you've made further modifications. Remove the custom ad blocker rule(s) and the page will load as expected.