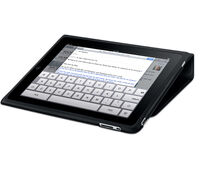 The CyPad is a tablet computer that was developped by CyTek. The first version was released in 2005 and it is currently on its 3rd generation.
The CyPad revolutionized the computer world in 2005, being the first tablet computer to be both affordable (costing roughly $350.00 USD) and functional. Taking nearly seven years to develop, the CyPad's touch technology was a big step up from that of earlier designs, which required a stylus pen similar to Personal Digital Assistants. The Pad's predecessor was a compact laptop computer, with its miniaturized design combined with the basics of a PDA.
While the original CyPad was capable of connecting to wireless routers it lacked a proper global network, being treated more as a laptop than a mix of one and a mobile phone. The second CyPad, released one year later, remedied the problem while the third generation CyPad features a camera.