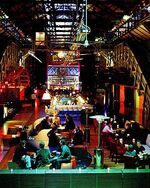 Club Mannequin was an underground Paris club run by Xavier Alberic with ties to Ouroboros. Counter to most conventional clubs, Club Mannequin didn't have overly-loud music or low lighting, instead being a bit more like a bar. Besides waitresses dressed in bikinis the club also featured two special cocktails, both laced with Type-7. The Mannequin Special would freeze the drinker for only a couple of hours while the Sweetest Dream for roughly a day, with people who drank the latter being kept in a special room called the Vault for safety purposes. The International Temporal Enforcement Agency eventually shut down the club. Secretly the business had just been a test by Richard Stilton to see how the public would react to the drug being used in such a way as well as a method of keeping his daughter Maris Stilton under control.
Ad blocker interference detected!
Wikia is a free-to-use site that makes money from advertising. We have a modified experience for viewers using ad blockers

Wikia is not accessible if you've made further modifications. Remove the custom ad blocker rule(s) and the page will load as expected.