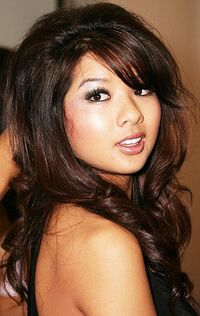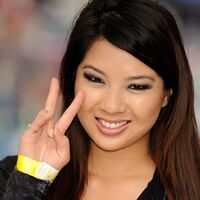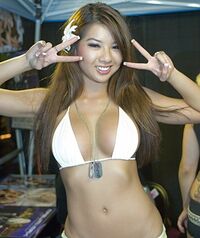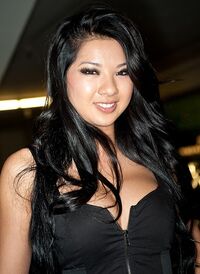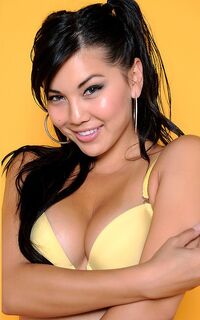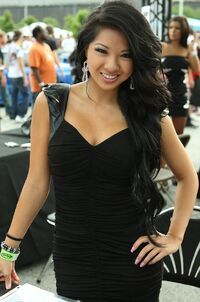 Cindy Vu (born 1987) is a supporting character in Tucker's Wand and a main character in both Maggie's Clock and The Princess and The Clock. Cindy is an amateur Vietnamese model with Models Inc as well as Maggie Yen's girlfriend.
Biography
Early Life
Cindy was born in Falls Church, Virginia as an only child. Her parents, Duc and Hong Vu, owned an Vietnamese supermarket which would grew into a big chain with locations all over Northern Virginia, California and Texas. She had a large extended family with nearly a dozen aunts and uncles, all of whom had a stake in her parent's successful business. What Cindy lacked in siblings she made up with a numerous amount of older cousins. Being an only child Cindy was spoiled but thanks to her upbringing by modest wealthy parents she never let it get to her head. She was well liked by her peers and had lots of friends through out. She naturally possess good looks. Because of this Cindy decided to pursue a career in modeling after graduating high school.
Moving to the Los Angeles area to better network herself she found that even with her good looks her career choice was not going to be an easy one. Had it not been for her family's wealth and the support of her aunt Thuy Vu and her cousins Cindy would surely be homeless within a month of her move. Eventually however she landed a few jobs but only achieved status as a high end amateur model at best. Some of these jobs were for special promotions that introduced to her to her best friend Martha Cassidy who was a local promoter. The lack of a real modeling job did not deter her however since she did have the money to live comfortably and made a lot of other friends. Most were in the modeling world, photographers and other up incoming models. Some were gangsters and other seedy characters as two of her cousins were into that type of lifestyle. Her cousins figured they were best type of people to watch out for her while she was on her own. All in all life was still good even though her model career was nearly non-existent. Considering pursuing other avenues, Cindy attended dance classes at a local community college, which was where she met Tina Ly and Denise Ortega.
Meeting Maggie
It was one of her amateur modeling shoots where she met Maggie Yen the two hit it off right away and quickly became friends. Maggie offered her a modeling gig for T&M Productions as well. Soon after with the help of Maggie's friend Haley Leone Cindy caught the eye of modeling guru and owner of Models Inc, Zoe Hollander. Through their friendship, Cindy eventually began to develop feelings for Maggie. Cindy had known she was bi-sexual since high school and she had picked up on the signals that Maggie was also attracted to her as well. She didn't make a move on Maggie however as Maggie at the time was in a relationship with Jamie Mosley.
When Jamie and Maggie broke up however Cindy still found herself holding back as she did not want to rush things with Maggie. She cherished their friendship more than being lovers. It wasn't until Maggie had a falling out with her best friend Tucker Holmes that Cindy jumped in and confessed her feelings. She invited Maggie to stay in her carriage house as the two decided what to make of their relationship. After Cindy helped Maggie get a job with Charlene Masters the two came out as an official couple, Cindy also learning about the Tempus Clock and even getting the chance to use it at a party she threw. Cindy and Maggie would later work together using the clock to win a planking contest against Michelle Boback, having a fun day together in the progress. Cindy would go on to discover Maggie's palace and be horrified by how populated it was, leading her to reach out to Tucker for help. Cindy ended up learning about the Wand of Kronos and worked with Tucker to clean up after Maggie when the clock was smashed. Maggie and Kansas Wilkins were frozen by the clock's destruction and Cindy decided to watch over them until a new clock could be built, also taking over Maggie's now-smaller collection. Soon after the incident Cindy was hired full-time by Models Inc.
Full House
A few weeks after Maggie was first frozen the Tempus Clock II was completed by Tucker, as it happens just as Ling Yen, Naomi Yen and Lida Wilkins confronted her over the fact that both Maggie and Kansas had been missing. Introduced to Susie Kim for the first time Cindy was quickly taken with the young woman, quickly encouraging to use the Royal Momju Necklace more. Maggie was revived and the happy couple celebrated with Susie, Cindy letting her usual jealousy subside for a bit, though it resurfaced soon after when Maggie showed some interest in other women while time was frozen. Cindy had however now gained the ability to freeze Maggie at will and vice versa, leading to the pair frequently freezing one another. One person Cindy wasn't happy to see brought into the fold was Madison Yen, who'd caused problems at one of Cindy's parties a couple of months prior, but she reluctantly accepted her into the group. While Ling Yen moving in with them bothered Cindy she ultimately decided it would be fine as she did have some interest in freezing the older woman, and upon learning that Sandra Packlin and Rachel Packlin would be her new carriage house tenants she was quick to welcome them.
Personal Information
Current Age: 22
Height: 5'3"
Weight: 120 lbs
Hair Color: Black
Eye Color: Brown
Bra Size: 34C
Hypnosis Rating: 1
Tattoo: Elaborate Dragon on Left Shoulder
Current Place of Residence: Los Angeles, US
Sexual Preference: Women
Nickname: Boob Bunny
Common Attire: Black Tab Jeans
Personal Items
Residence
Cindy's home is a large property in Brentwood, a part of Greater Los Angeles. Cindy's property consists of a main house, a carriage house and a pool, all surrounded by a six-foot tall privacy fence. The carriage house is two-stories with a bedroom and a bathroom on the top floor and a small kitchen, dining area and living room on the first along with a half-bathroom. The main house is two stories and lacks a garage, though it has a large driveway. The top floor of the house as three bedrooms, an office, and a bathroom. The first floor has a large kitchen, dining area, a large family room and a living room as well as a laundry and a bathroom.
Relationships
Family
Romances
Friends
Appearances
Trivia
Cindy is based on model Jenny Chu.