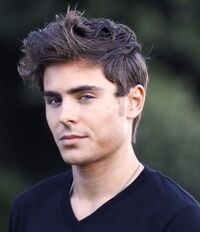 Chet Powers (born 1987) is a minor character in Maggie's Clock (series). Chet is a student at Decker State College and the captain of the men's swim team. Due to how handsome he is considered to be he is incredibly popular on campus.
Personal Information
Current Age: 22
Height: 5'8"
Weight: 141 lbs
Hair Color: Brunette
Eye Color: Blue
Hypnosis Rating: 1
Current Place of Residence: Malibu, US
Sexual Preference: Women
Relationships
Romances
Appearances
Trivia
Chet is based on actor/singer Zac Efron.
Is often called by his first and last name by the student body.
Though not mentioned in School Daze Chet and Stephanie Kinloch are an item.
Ad blocker interference detected!
Wikia is a free-to-use site that makes money from advertising. We have a modified experience for viewers using ad blockers

Wikia is not accessible if you've made further modifications. Remove the custom ad blocker rule(s) and the page will load as expected.