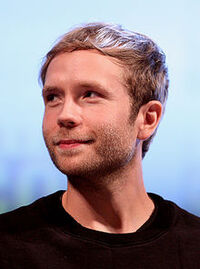 Charles Truman III (born 1983) is a supporting character in Tucker's Wand and The IT Files. Heir to a vast fortune, Charles is very stuck-up and egotistical, making him a villain of sorts. His wealth and connections eventually allowed Charles to get his hands on some Type-7 which eventually led to him ending up in jail.
Biography
Charles was born in Los Angeles, California, heir to the Truman family fortune. Charles's father, Truman Jr, was one of the most reputable art dealers in the United States, and Charles was raised to follow in his footsteps. While he grew up in Los Angeles Charles when to university in New York, quickly earning a Master's Degree of Art from New York State University with summers abroad in Paris and London.
Upon returning to California Charles quickly made a name for himself and after only a year and a half was one of the biggest art dealers in southern California, rapidly heading the same way as his father. Charles's fortunes turned however after a fateful encounter with Rachel Hunt while on a date with Haley Leone at Hunt's exhibit. Charles ended up ruining some of Rachel's work, leading to her assaulting him which greatly hurt his reputation and cost him Haley. Unbeknownst to Charles Tucker Holmes was behind it, having used his Wand of Kronos to accomplish it. Frustrated, months later Charles would buy Type-7 from Rajni Arora and use it to kidnap Rachel as well as Haley. Charles did however attract the attention of Interpol who teamed with Tucker Holmes to get Charles behind bars. In return for a lighter sentence Charles told Interpol about Rajni.
Some time later Charles was rescued from jail by Ouroboros and recruited to help capture agents of the International Temporal Enforcement Agency. Charles helped capture Colette Landry and assisted in injuring Jelena Hendraille but was later caught by Victor Morozov at Waterloo Station. Knowing who Richard Stilton was in spite of his attempts to keep his identity secret, Charles told Kioni Abasi he was behind Ouroboros and that they were located in New York, once again an attempt to save himself.
Relationships
Romances
Appearances
Trivia
Charles is based on actor Mark Webber.
Ad blocker interference detected!
Wikia is a free-to-use site that makes money from advertising. We have a modified experience for viewers using ad blockers

Wikia is not accessible if you've made further modifications. Remove the custom ad blocker rule(s) and the page will load as expected.