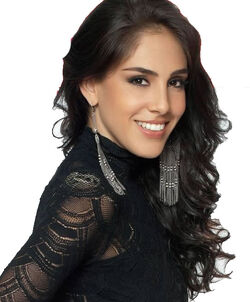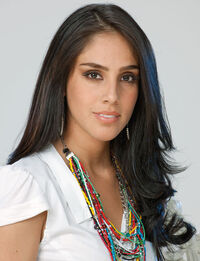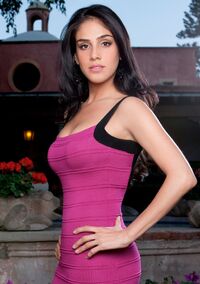 Carla Gomez (born 1984) is a minor character in Tucker's Wand. Best friends with Wanda Beck, Carla spent a lot of time hanging out at Vicky's. After Vicky Sandrosi disappeared Carla bought the boutique and became the new owner.
Biography
Carla was born in Los Angeles, California, the daughter of an executive of Signature Service Real Estate. Wealthy as a child, Carla didn't let anything bother her since she was convinced money could fix it. Even seeing her high school best friend get bullied for being gay didn't bother Carla, but while she did stand up for her friend her general lack of caring saw the friendship end. Carla graduated from high school with little under her belt aside from a minor job at the school newspaper, but none the less managed to get into the University of California Los Angeles.
At UCLA Carla joined the ranks of Delta Nu Omega where she became best friends with Wanda Beck, also befriending Summer McGuire, Vicky Sandrosi and Connie Soyer. Carla was recruited due to her social standing and often tagged along with Vicky, who was seen as a top contender for future president. Any potential plans for future school years were quashed when Erika Stone, who'd previously been insulted by Vicky, used Transmoxide on Carla, Vicky and Wanda. The trio were hypnotized into having an orgy in a public space and expelled as a result. Not too shaken up by the ordeal aside from the hypnosis, Carla managed to get her dad to let them live rent-free in one of his buildings and also gave Vicky a loan to open Vicky's. Carla didn't get a job at the boutique, instead living off her father's money, but none the less spent all her time there. Years later Vicky went missing and Carla used more of her dad's money to buy the place herself, becoming the new owner.
Personal Information
Current Age: 25
Height: 5'6"
Weight: 119 lbs
Hair Color: Black
Eye Color: Dark Brown
Bra Size: 34B
Hypnosis Rating: 1
Current Place of Residence: Los Angeles, US
Sexual Preference: Men
Relationships
Employees
Friends
Appearances
Canon
Trivia
Carla is based on actress/singer Sandra Echeverria.
Ad blocker interference detected!
Wikia is a free-to-use site that makes money from advertising. We have a modified experience for viewers using ad blockers

Wikia is not accessible if you've made further modifications. Remove the custom ad blocker rule(s) and the page will load as expected.