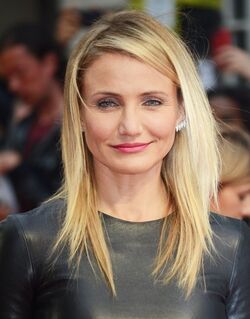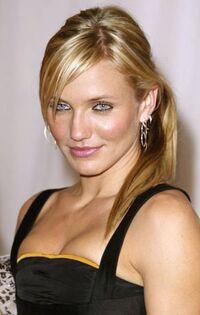 Cammie Domingo (born 1972) is a minor character in the Tuckerverse, first appearing in Clockwork. Originally a fashion model, Cammie went on to become a hit film star in the late 1990s, specializing primarily in wholesome comedies though doing occasional dramatic work. Cammie was kidnapped by the Paradise Foundation at one point but rescued. Sandy Vanholt later froze Cammie and her staff so she could live in the movie star's mansion.
Personal Information
Current Age: 37
Height: 5'9"
Weight: 119 lbs
Hair Color: Blonde
Eye Color: Blue
Bra Size: 34B
Hypnosis Rating: 34B
Current Place of Residence: Malibu, US
Sexual Preference: Men
Relationships
Staff
Appearances
Trivia
Cammie is a spoof of model turned actress Cameron Diaz.
Ad blocker interference detected!
Wikia is a free-to-use site that makes money from advertising. We have a modified experience for viewers using ad blockers

Wikia is not accessible if you've made further modifications. Remove the custom ad blocker rule(s) and the page will load as expected.