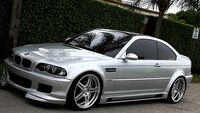 The BMW M3 is a type of sports car produced by Bavarian Motor Works, with variants in the E-series produced from 1986 to the present day. The car tends to come in a coupe, sedan or convertible model and can seat up to five people. The sports coupe is powered by a three liter inline six engine which puts out 333 horse power to the rear wheels via six speed manual gear box.
Owners
Featured
Ad blocker interference detected!
Wikia is a free-to-use site that makes money from advertising. We have a modified experience for viewers using ad blockers

Wikia is not accessible if you've made further modifications. Remove the custom ad blocker rule(s) and the page will load as expected.